Our Bodies are Our Temples
There are many factors that contribute to living a happy and healthy life and it always depends on what each individual values and considers to be healthy. The way we care for our bodies, the food we eat, exercise, getting enough rest, and doing things that bring us joy are all factors that can determine our health and the way we feel day to day. The aging process is inevitable, but there are many ways we can embrace changes in our body, flow with life and age gracefully. One thing we all have to come to terms with, is that our bodies are aging. But this doesn't mean that we should give up or change who we are because of these changes. Many people live well into their 80s and 90s with a lot of energy for life and happiness.
Taking Care from the Inside & Out
Everything we put in our bodies including food, drinks and supplements directly affects the way our bodies feel, our moods and how our brain functions. Eating minimally processed whole foods, different types of adaptogens and herbal extracts such as CBD can also help our bodies and brains function and feel better. There are many ways to take CBD internally and Soji Health provides several great options. Soji's sublingual CBD oil made with broad spectrum CBD and nano-technology provides fast acting results and can provide relief from inflammation and anxiety. Taking CBD oil internally can be beneficial for overall well being and focus, as well as helping reduce pain while healing from recoveries or post-workouts. Soji Health's Vegan CBD Gummies made with broad spectrum CBD, organic cane sugar, and all natural colorings and flavorings are also an excellent way of taking CBD Hemp oil orally. CBD Gummies are a tasty and discreet way of being able to take CBD on the go and a nice treat to bring balance the system.
CBD for Skin Care & Anti Aging
CBD oil in skincare has been gaining a lot of attention lately due to its numerous benefits for the body and skin. Hemp CBD oil is a natural chemical compound that is derived from the hemp plant. It has been found to have remarkable therapeutic qualities and its inclusion in skincare products has become more popular as a result. Studies show that CBD oil can reduce inflammation, it can be used to treat acne, and even reduce skin conditions like eczema and psoriasis. Studies have shown CBD to even help reduce fine lines, even skin tone, and increase collagen circulation.
There are many different kinds of CBD skin care products out there and Soji Health CBD skincare products are some excellent options that cover all the essentials to keep your skin glowing and feeling amazing. Soji CBD Body Oil is light yet moisturizing all over body oil that can be used on the skin and face. Soji's CBD Body Oil is formulated with almond oil, lavender, and peppermint providing aromatherapeutic benefits as well as antioxidants which provide anti aging benefits from fighting free radicals.
Studies have also shown that using CBD skin care products regularly also increases collagen circulation which is how it reduces the appearance of fine lines and wrinkles. Soji Health Anti Aging Daily Moisturizer and Intense Recovery Eye Cream with broad spectrum CBD are great CBD skin care products formulated with hydrating moisturizers and aromatherapeutic essential oils. Aside from the many anti-aging benefits hemp CBD oil provides, it also just feels really good on the skin and can help with any kind of skin irritation and sore muscles.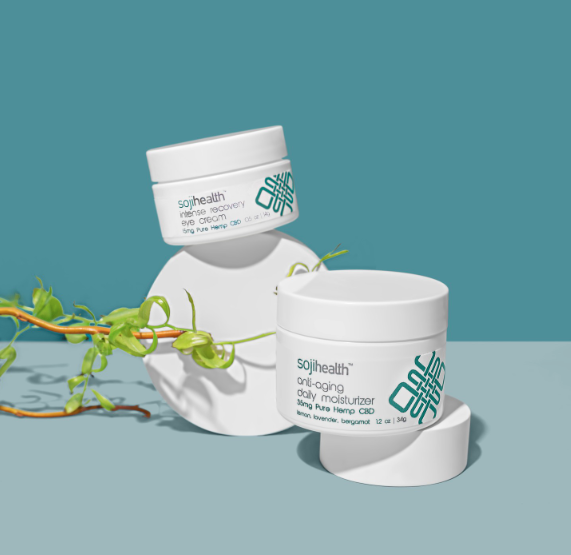 Whether it be for health or beauty purposes, CBD is beneficial for the body inside and out. It can help our brains function with less stress and the bring balance to the body. Being good to our bodies and selves is the best thing we can do for us to live a our best lives.